This past Sunday was the first of the three Sundays (the Triodion) leading to the Great Lenten Fast of the Orthodox Church. Coming up will be the Sunday of the Prodigal Son followed by Judgement Sunday. After these, most parishes will hold a special Vespers (evening) service on Forgiveness Sunday as we repent to and forgive each other as we start the 40 days of limited eating (no meats, fish with bones, or dairy products, or alcohol), additional prayers (in particular, the prayer of St. Ephrem of Syria) and additional services (Pre-sanctified Liturgy). Lent in the Orthodox tradition is more challenging than in modern Christianity. With the right frame of mind, the process helps to cleanse our hearts and minds from sin, develops virtues, and prepares us to celebrate Holy Week and Pascha (Easter) which is the greatest feast of the year.
A key frame of heart and mind is humility. So we begin with the Gospel lesson and sermon from Luke 18:10-14. In this parable, Jesus describes the arrogant and prideful prayer of a Pharisee and the humble, tearful plea of a tax collector (publican). Both men returned to their homes with the publican made right with God and not the Pharisee. Yes, it is good to keep a fasting and prayer rule. Tithing for the sake of the poor and a house of worship is also beneficial. It is a blessing to be a clergyman and called to stand in front of a congregation in prayer.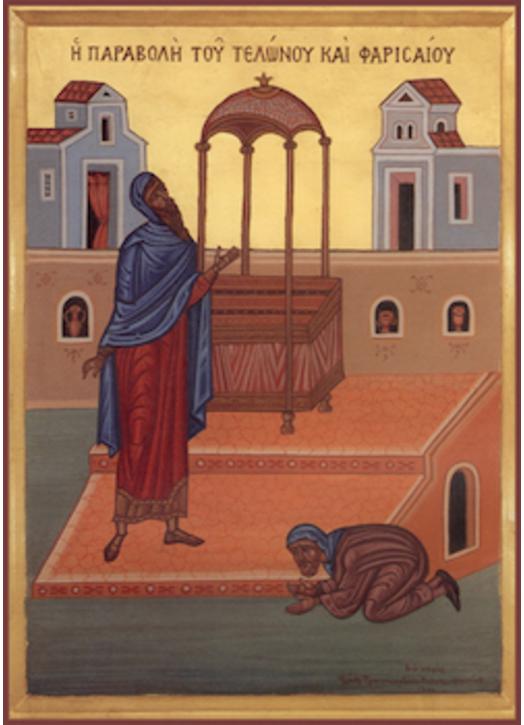 What God wants from us so that he can work in us is humility. The publican is an outcast to proper society as he is seen as an untrustworthy thief and traitor to his people. Even if he kept fasting and prayer traditions, his occupation and company he keeps marks him as an outsider fit only for the back of the temple should he dare enter among the good men and women. He cannot appeal to anything good about himself. He can only beat his breast, bow his head, and cry out to God. This is where the Lord works in us.
When we take away our titles, offices, social standing, pious acts, and other external qualities that make us look righteous, we have to admit that we are far short of the righteousness of God. Even if we don't commit obvious and overt sins, we still harbor evil thoughts and maintain "little" bad habits. This recognition should lead us to repentance without any excuse. Jesus is faithful to forgive those who humbly confess their sins and heal the wounds caused by our failures. From such a recognition and recovery, we gain needed virtues such as compassion, patience, and love. The practices of almsgiving, fasting, and prayer become beneficial when we have the publican's humility.
In his homily, Fr. James Purdie warned us that unless we recognize that we are more likely to act like the Pharisee rather than the publican, we will not develop the humility needed for salvation. Sadly, he's right. When I hear a news report about a murderer, rapist, or someone who leads what I think is an unacceptable lifestyle, it is easy for me to say, "At least I'm not that guy." But, my pride and self-assurance makes me blind to my own thoughts of anger, lust, and other ungodly ways. This blindness makes me more distant from God than, let's say, a child molester who earnestly repents and turns from his wickedness even if I had never thought to commit such a sin.
Before the fast, let us commit ourselves to being as humble as the tax collector. May our arrogance and pride be thrown away so that we can see all of our warts and wounds. Let us admit all of our failures and sins so that the healing balm of Christ can restore our souls and make us whole.